Seminar Registration: "Lasers in Dentistry"
Summary:
Start using a laser in your practice and provide your patients an exceptional treatment with better outcome and minimal recovery time. Laser Bacterial Reduction with the NEW EmunDowithout a scalpel – No surgery. Eliminate introduction of infection into the body and create precise and accurate margins, NO bleeding and NO cord with Lasers. Hands on Tutorial for technique and laser settings with optimal Laser Safety, Laser Physics and all applications in your practice. Lastly, Dollars and Sense & 8 Full CE Credits
Presenter: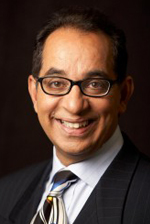 Dr. Omar Kassam practices Laser Assisted Restorative and Cosmetic Dentistry and Laser Periodontics in Vancouver, British Columbia and London, England where he is the principle Dentist. Dr. Kassam has been involved in teaching Dentistry since 1978, as a House Officer at the Royal Dental Hospital in the department of Prosthodontics and Paedodontics, and as a clinical instructor at the University of British Columbia. His lectures and hands on courses have taken him worldwide in Europe, North America and Asia discussing Periodontics, Aesthetics and Laser use in the dental practice. Dr. Omar Kassam (and his wife Dr. Shelly Kassam) were the first two Canadian Dentists to attain the University of San Fransisco's Certified Dental Laser Educator Status for the Academy of Laser Dentistry.  Dr. Kassam has achieved Standard, Advanced, and Proficiency Accredited Educator levels from the Academy of Laser Dentistry, and is also a recognized course provider for the Academy of Laser Dentistry.  He is an examiner for the Standard Proficiency Certification for the Academy of Laser Dentistry. Dr. Kassam is one of the first dentists to integrate Lasers into the general dental practice in Canada and last year was honored with a distinctive Master of Laser Dentistry award from the Academy of Laser Dentistry.
Seminar Details
Lasers in Dentistry
Standard Proficiency Certification
(14 Full CE Credits)
Presenter
Dr. Omar Kassam, BDS (Lond) LDS, RDS (Eng)
Location
Yaletown Laser & Cosmetic Dentistry
1010 Mainland Street
Vancouver, BC, V6B 2T4
Time & Date
To be announced
Day 1:   8:30 am – 5:00 pm
Day 2:   8:30 am – 4: 30 pm
(Lunch included)
Pricing
Dentist:  To be announced
Hygienist:  To be announced
Registration Status
Closed!
Day 1 – Agenda
8:30 – 10:00 – Lasers in Dentistry
What is a Laser?
Laser Physics
Tissue Interactions
Types of Lasers
The Diode Laser
Advantages of a Laser
10:00 – 10:15 – Break – Questions & Answers
10:15 – 11:15 – Using a Laser
Laser Safety
Laser Components
Laser Preparation
Laser Use Techniques
11:15 – 12:15 – Soft Tissue Procedures
Laser Crown Lengthening
Gingival Shaping of the "Gummy Smile"
Frenectomies Ulcers, Fibromas, Epidis Troughing
12:15 – 1:15 – Laser Assisted Periodontal Therapy
Languaging
Procedure –   Lasering the pocket for Hygienist – Sterilizing only
Method of Lasering –      Fibre Length
Marking the Fiber
Laser "passes"
Epithelial Migration
Irrigation
Co-factors
Occlusion
Schedule of Appointments
Post Care for the Client
Re-Care in 90 days
1:15 – 1:45 – Lunch,  Questions & Answers
1:30 – 3:30 – Hands on with a Dentistry Laser
Administrative Team Assemble for Insurance & Languaging
3:30 – 4:00 – Putting the Laser together (Your Laser)
Cheat Sheet
Practical Demonstration
4:00 – 5:00 – Final Review
Day 2 – Agenda
8:30 – 10:00 – Recap Laser Procedures & The day
9:00 – 1:00 – Patients Arrive and Treatments Begin
1:00 – 4:30 – Practical & Laser Safety Examination
Have a question?
for registration related questions, please contact: sigal@britamed.com
for seminar content/agenda questions, please contact Sarah Anderson: Tel. 604 562 1402