ENT Lasers
Modern lasers became nearly indispensable in the field of ENT surgery, where depending on the application three different lasers types are used: a 980nm diode laser, a green 532nm KTP laser and a 10,600nm CO2 laser.
Diode lasers have excellent interaction with red colour pigments as well as low absorption in water. Diode laser is an excellent choice for either cutting tissue or coagulating vessels. Its flexible fibre optics combined with specialized handpieces makes minimal invasive surgeries possible – even under local anesthesia, and especially when it comes to surgeries in areas where the tissue has an increased blood circulation, e.g. tonsils or polyps, in which a diode laser allows surgeries with hardly no bleeding.
CO2 lasers are used in combination with an articulated arm or a flexible wave guide, mostly in the throat area, larger tissue changes can be removed precisely without direct contact and especially, without greater blood loss.
A  green KTP laser is an additional alternative to a diode laser due to its low penetration depth, which is important in sensitive areas like vocal chords.

Surgery with Diode Lasers offers these advantages
  Minimally invasive 
  Minimal bleeding and atraumatic 
  Good wound healing with uncomplicated follow-up care 
  Hardly no side effects 
  Possibility to operate people with a cardiac pacemaker 
  Many treatments can be done under local anesthesia 
  Treatment of difficult to reach areas 
  Time saving 
  Reduced use of medications 
  Improves procedure sterility 
---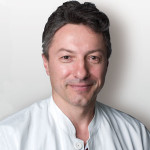 The FOX laser is notably suitable for the treatment of mucosa hyperplasia, where the use of the laser is especially indicated for hyperplasia of the lower nose mucosa.
Prof. Helmut Steinhart, MD, Medical Director Department of ENT Head and Neck Surgery Marienhospital -Stuttgart, Germany
Septoplasty with the FOX Diode Laser

• A deviated septum or a septum deformation leads to a narrowing of the nasal cavity
• Such deformation of the nasal septum often occurs as a consequence of turbinate hyperplasia
• Symptoms of deformation may be breathing impairment, olfactory disorders or nosebleeds
• A straightening of the nasal septum by means of laser radiation can relieve the symptoms
• Septum Resection / Septoplasty in the area of the nostrils, an incision is made through the mucous membrane of the front edge of the nasal septum cartilage,typical procedural steps include:
      Loosen the mucosa of bone and cartilage
      Remove the excessive portions of the nasal septum
      Straighten the nasal septum, insert stabilizing films
      The fiber must be directly in contact with the tissue to achieve the desired effect