A.R.C Laser Receives Health Canada Approval for A Novel Photo Thermal Therapy Photo Sensitizer EmunDo® (to be used in conjunction with the company's FOX Diode Laser device).
A.R.C Laser's Photo-Thermal Therapy delivers effective antibacterial treatment in major Dentistry applications (e.g. Periodontitis), as well as support multiple applications in the Veterinary field (e.g. treatment modality in Oncology, drug resistant tumours surgery, and dermatology).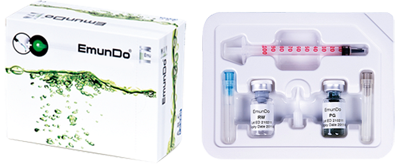 Richmond, British Columbia – September 30, 2014 – BritaMed Inc. (www.britamed.com) today announced it received Health Canada approval for A.R.C. Laser's EmunDo® a novel Photo Thermal Therapy (PTT) photo sensitizer for help in treatment of periodontitis, and various application in veterinary field such as removal of multiple drug resistant tumours. EmunDo® contains infracyanine green (IFCG) 1mg and 1mL demineralized water. Infracyanine green is a derivative of indocyanine green, a well known dye used in cancer treatment, diagnostics especially in ophthalmology and liver affected conditions.
It is well documented in clinical trials that periodontitis bacteria can have an impact on overall health of both humans and companion animals – one of the contributors of apoplectic stroke, heart attack, diabetes, premature birth, arthritic problems and rheumatism. Periodontitis has become highest risk factor for the increase in mortality in diabetic patients.1 Clinical studies show that with periodontal therapy the risk of premature birth is considerably reduced from 6.3% to 0.8%.
The bacteria present in periodontitis is the leading reason that causes debilitating effect of the above mentioned conditions. Photo-sensitizer, EmunDo® when activated by the FOX diode laser provides an effective antibacterial effect, eliminating the need for antibiotics.